Beginning my sophomore year, I started feeling a lot of pressure to find a summer internship. There are many reasons to work as an intern: to network with professionals in your field, to learn new skills, to gain experience, or to see if a certain job might be right for you. Unfortunately, many internships are unpaid, and it can be hard to predict how useful a certain internship might even be. Not to mention, many positions are very competitive.
This year I applied to 11 internships before being offered a position—had I not heard back when I did, I would have continued to send off applications to many more. After putting so much effort into pursuing an internship, I wanted to write a blog post with some tips and tricks that I learned along the way.
Narrow down your interests.
At the start of this process, I made a list of the fields in which I would look for an internship. My list included magazine and literary publishing, nonprofits that promote literacy or the arts, and museums. I knew I was looking to develop my writing skills and to work with people, especially doing educational work of some kind.
Having this specific set of criteria helped me eliminate any internship that did not suit my interests and goals. It's also important to have some idea of where you want to be during the summer. For the past two summers I have gone home to Minneapolis, but this summer I looked for internships in the Philadelphia area.
Google research.
Once I knew what I was looking for, I started doing research in the broadest way possible, just to get a sense of what was out there. I just typed keywords into Google—for example, "Philadelphia literary journals"—and clicked on anything that looked interesting. Many websites will have a "careers" or "opportunities" page, where any internships will be listed. If you can't find anything listed, it never hurts to send an email (from your .edu email account!) asking if the organization ever does offer internships for college students.
JoinHandshake.com
JoinHandshake.com is a website where you can find so many job and internships listings, and often apply directly through the website. There are filters to find jobs in certain geographical areas or fields. You can also create a personalized profile so that the website will recommend jobs that fit you.
This website is how I found my internship for the summer, so of course I would recommend it! I found it very efficient and easy to use, and since Bryn Mawr students automatically get accounts, you might as well try it out.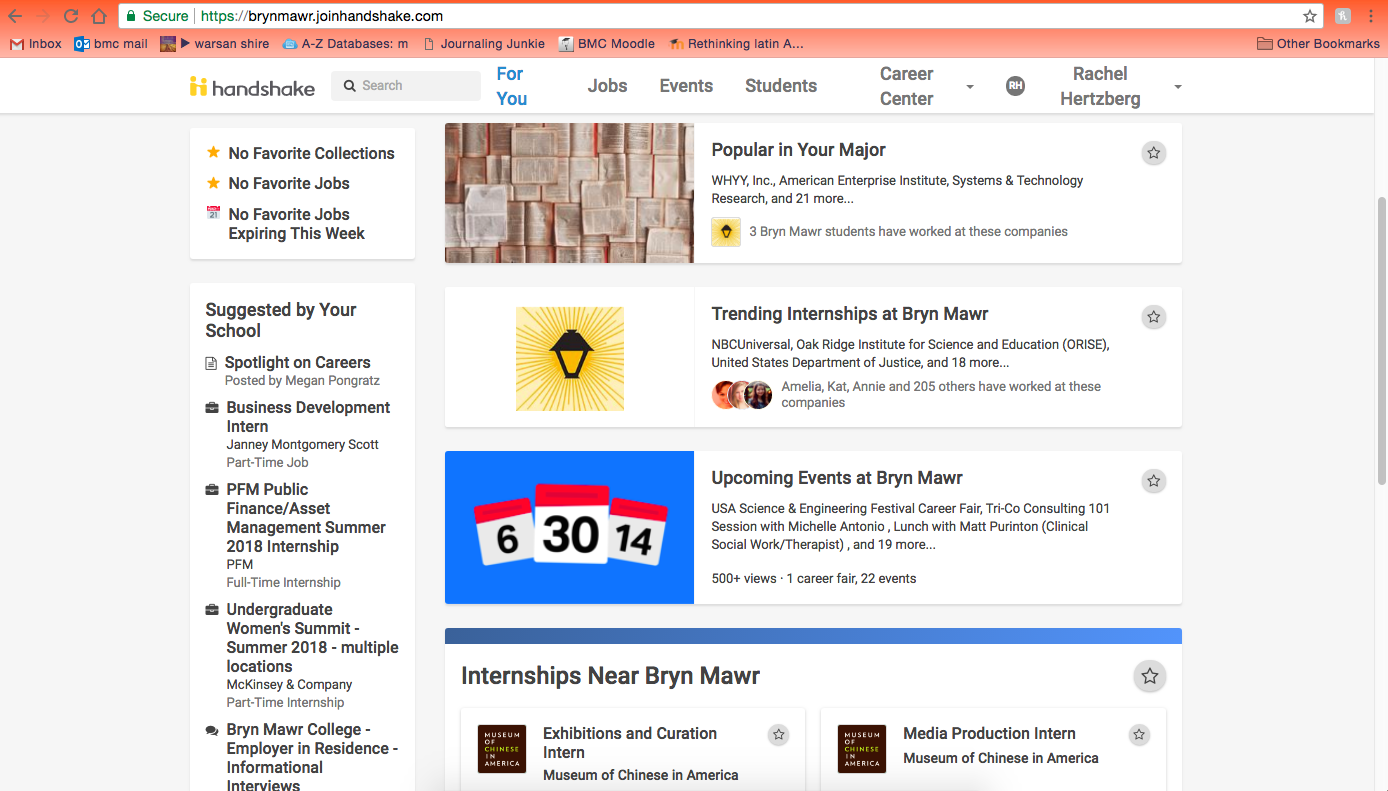 BookJobs.com
BookJobs.com is a website that might be of interest to other English majors that lists jobs from all over the country that relate to the publishing field. I responded to a couple of postings on this website. You can narrow down the results to just internships or just jobs. As you might expect, many of the positions are concentrated in New York, so if you are looking to be in that area you should check out this website.
Have confidence in your application skills!
This might seem obvious, but if you don't know how to write a cover letter or format a resume, make sure to brush up! Bryn Mawr's Career Planning Office was a lifesaver last year when I needed to learn these skills. After a little practice, I had my application-writing process down to a science.
Job hunting of any kind is stressful, and it's easy to feel paralyzed—by the sheer amount of options in front of you, but also by the fear of failure or rejection. I am by no means an expert, but the most important piece of advice I have is to cast as wide a net as possible. In other words: apply for jobs you might not be qualified for; apply to jobs you find fascinating but have no experience in, apply for jobs that are ridiculously competitive. A year ago, I agonized over every application I sent out, pinning all my hopes on one prospect. This year, I applied to everything that looked intriguing. An internship is kind of like a trial run—it's a short-term commitment to explore your interests and learn about what you need from a work environment. Good luck to everyone who is waiting to hear back about summer plans, and I hope these tips were helpful!